About the brand...
From the American brand Sunday Afternoons you will find at UV-Fashions an extensive and high quality range of UPF50+ uv-protective hats, caps and sunshields for women, men and children in all kinds of models and colors! Sunday Afternoons has been one of the leading brands in the United States when it comes to sun hats and caps for decades.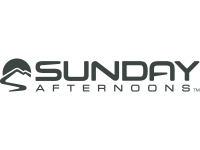 Sunday Afternoons | UPF50+ sun hats and caps

Sunday Afternoons UV sun hats
The American company Sunday Afternoons started making picnic blankets in 1990. The brightly coloured, waterproof blankets were such a success that in 1992 Sunday Afternoons became an official company. In the production of the blankets, a lot of fabric was often left over. The idea was to make sun hats from that fabric, which could be sold with the blankets. These hats were so popular that in 1996 the company decided to focus entirely on making hats. Meanwhile, Sunday Afternoons has grown into one of the leading companies in the field of summer hats.
Sunday Afternoons summer hats
Sunday Afternoons designs hats to be good companions for your adventures at the beach, in the garden, on the water, on the street and in the sun. Wherever your path may lead - whether you're pushing your limits or just taking a stroll - these designs and technologies ensure style and comfort. UPF50+ UV protection blocks 98% of all UVA and UVB rays. At UV-Fashions, we have a wide range of hats and caps from Sunday Afternoons. The visors vary in size and there are also models with a neck cover to protect your neck from the sun. Some hats have a cord for a perfect fit.
Sunday Afternoons summer hats at UV-Fashions
At UV-Fashions, you can find UV-protective headwear from the American brand Sunday Afternoons. The sun hats are available in numerous colours, different models and suitable for boys, girls, women and men. With the hats of Sunday Afternoons you are protected against UV radiation and you look cool at the same time.