Over het merk...
Babiators is the sunglasses brand for babies and children. The stylish children's sunglasses are sturdy and bend without immediately breaking or cracking. Babiators is so confident in the sturdiness and quality of their sunglasses that they offer a one-year warranty against loss and damage. You don't have to register your sunglasses on the Babiators site. You will receive a new pair of Babiators sunglasses immediately through UV-Fashions if your copy breaks or is unexpectedly lost. To receive a new pair of Babiators sunglasses at home, you only need to give your order number and pay the shipping costs of € 7.25!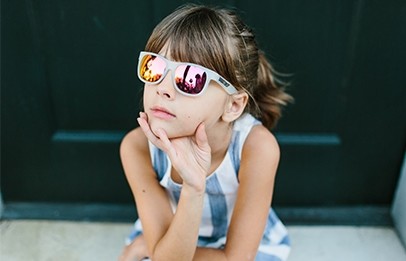 Babiators | Trendy Sunglasses for Kids

Babiators Sunglasses
Babiators uv sunglasses have been popular all over the world since its founding in 2011. And it all started on a base of the U.S. Air Force, where a mother saw that all children had to make a lot of effort to look in the sun and thus play outside. This while all the parents stood around with the nicest and best protective glasses, looking on relaxed. This had to change. So the brand Babiators was born!
Warranty Babiators sunglasses
Babiators sunglasses are sturdy and can bend without immediately breaking. Babiators is even so convinced that they offer a one-year warranty on loss and damage. You do not have to register your sunglasses on the Babiators site. You get a new pair of sunglasses through us if your copy is broken or lost. You just have to pay the shipping costs and provide your order number!
Babiators sunglasses baby
The trendy Babiators sunglasses are inspired by the famous Aviator models. That is of course a model that is widely worn by pilots. One of the founders of the Babiators brand is a former pilot in the U.S. Air Force. There on the air force base, the idea for Babiators was born. Therefore, the link between the cool Aviator and the Babiators designs is not far off. Meanwhile, there are many more Babiators sunglasses and goggles, so your little ones can play in the sun without worry and as well protected as possible. Because not only UV protection on the body is important, the eyes should not be forgotten. And fortunately there are the trendy sunglasses of Babiators.
Baby sunglasses
Baby glasses are seen as a nice extra, but fortunately Babiators brings change in that. Where adults pick glasses as a hip accessory and not to suffer from the sun in the eyes, we forget that sunglasses should primarily serve to protect the eyes. Both for adults and children. That is why Babiators glasses offer 100% protection against UVA and UVB radiation. Take a look at all Babiators accessories. We have them in many colors, like these blue glasses.
Order Babiators online
At UV-Fashions you are at the right place when it comes to UV-protective clothing and accessories. Sunglasses of high quality such as Babiators can not be missed in our online offer. If you are looking for glasses that protect the eyes of your little one from harmful UV radiation, feel free to look at our sunglasses for children and babies. If you order your Babiators sunglasses before 5:30 p.m., your order will be shipped the same day and you will receive it within 2-3 working days. At UV-Fashions you pay in a secure payment environment with the payment method that suits you best.