Which sunglasses for baby or child?
Introduction
Sunglasses. Almost every adult has one at home. Sunglasses have become indispensable. While driving, walking in the sun, enjoying a cup of coffee on a sunny terrace or during a wonderful holiday. Sunglasses are our best friend. Babies and children are less likely to wear sunglasses than adults. Often, sunglasses get in the way, the frame is too big and the glasses can fall off, or they get in the way enormously when playing outside. But what many people do not know is that wearing sunglasses at an early age can be crucial. According to the Eye Foundation, sunglasses for babies and children are a necessity for optimal eye protection. At a young age, the eyes are more vulnerable and not fully developed, so too much UV radiation can be life-threatening. Exposure to excessive sunlight can damage the cornea and increase the risk of eye disease. Naturally, you want to protect your baby properly and responsibly when exposed to the sun. Often, the only thing people think about is sunscreen. But baby sunglasses are absolutely essential here. Eye protection is crucial if you want your child to play carefree in the sun. At UV-Fashions, good protection comes first, which is why we are dedicated to providing optimal eye protection for your baby and child. With our varied range and bright colours, you can always find one that matches your baby's outfit perfectly. In addition, we have selected various brands for you. Take a look at the range of the following leading brands such as Ki ET LA and Babiators.
The sun and your baby
Why is it important for babies to wear sunglasses?
When should a baby wear sunglasses?
How do you keep the sunglasses on your baby?
What baby sunglasses are there?
The best sunglasses for babies
The difference between baby and children's sunglasses
Tips on buying baby sunglasses
Baby sunglasses online at UV-Fashions

You want to protect your baby's delicate skin as much as possible against the sun's radiation. So that you and your family can enjoy a well-earned holiday in a sunny country, or just an afternoon in the park. But it is very important that your child is well protected from the sun. Over 95% of people are well aware that UV radiation can cause damage to the skin. But only 7% know that UV radiation can also damage the eyes. Without proper protection, too much sunlight can cause damage to the body. And this certainly happens in the summer, when the sun is shining brightly. At that time, the skin and eyes are much more vulnerable than in other seasons. The eyes of babies and children are especially vulnerable. Although many parents protect the skin of babies and children with sunscreen, it is also very necessary to protect their eyes from the sun's rays. Children are more vulnerable to a lot of light and UV radiation at this young age. This is due to the fact that the pupil size is larger than that of adults and the eye lens contains less protective pigments. In other words, too much exposure to UV radiation damages the cornea and increases the risk of eye diseases. In this article, we will explain all about the importance of baby sunglasses, the different models we have in our range and which sunglasses are best suited for your baby. From Ki Et La to Babiators. All kinds of fashionable sunglasses that offer your baby enough protection from the sun.<
The sun and your baby
Sunshine makes people happy and gives us energy. In addition, UV radiation ensures the production of vitamin D, which is good for healthy bones, among other things. But as almost everyone knows, there are also disadvantages to the radiation of the sun. It can cause skin burns and ageing. And that can be very dangerous for the delicate skin of babies and children. If your baby is younger than a year, it is advisable to keep him or her out of the direct sun completely. Are you going out together when the sun is nice and sunny? Then always use protective sunscreen and UV-resistant clothing, headgear and sunglasses. To protect your baby from the sun as much as possible, a good sunscreen is very important. A good protective sunscreen has a minimum factor of 30. The shops and drugstores are full of sunscreens from factor 6 to factor 50+. This factor is usually indicated by the term SPF (Sun Protection Factor). The higher the SPF, the more protection the sunscreen offers. There is actually very little difference between factor 30 and factor 50. This is due to the fact that a factor 30 sun block offers 97% protection to the body, whereas factor 50 offers 98% protection. So the difference is minimal. The factor indicates how long it takes for the body to start burning. That is already after 10 minutes. With factor 50 it takes fifty times as long, in other words 10 minutes times 50. But to make the story even more complicated, it also has everything to do with the power of the sun. On days when the power of the sun is stronger than average, you can get sunburnt after only five minutes. This all goes to show how important it is to protect your baby or child as much as possible from the sun's radiation. Sometimes just putting on the sunscreen is not enough. With the right protection, you can be sure that your baby or child can safely enjoy the nice weather.<
Why it is important for babies to wear sunglasses?
On sunny days there is nothing better than going outside with your little one. And then, of course, you think about making sure your baby or child is properly covered with sunscreen. But what about baby sunglasses? Because that UV radiation is not only bad for the skin, but also for the eyes. And that is why a good pair of sunglasses for your baby or child is indispensable. Hats, caps and sunglasses. Protecting your child from the sun can sometimes be a challenge. And yet it is one of the most important things. Children in particular are outside more often than adults. And where an adult immediately looks away if the sun is too bright, children often do not. In addition, the eyes of both babies and children are often extra vulnerable to UV radiation because the pupils are larger and the pigment in the eyes is even less protective. That is why a good pair of sunglasses is an indispensable item for babies. The younger the child, the more vulnerable the eyes are. And parents with young babies should be especially alert to this. It is important that the baby's face is always in the shade and preferably wears sunglasses too. Most parents are unaware of the seriousness of the sun for babies' eyes. And this is precisely why, in addition to a good sunscreen, UV-resistant clothing and accessories such as baby sunglasses are so important. Because if this is not done, a baby suffers permanent damage. And you may not notice this immediately, but it can have unpleasant consequences in later life. The difference between seeing well or badly. Eye problems only occur after an accumulation of damage, spread over a longer period. Here are some of the consequences of overexposure to UV radiation: - Arc eye. This is also known as snow blindness. With arc eye, the cornea becomes inflamed and the eyes of babies and children turn red and start stinging. You often notice this a few hours after being exposed to too much UV radiation. - Earlier wear and tear of the retina can occur. You only notice this when you are older. - The World Health Organisation estimates that about twenty percent of all cases of cataracts are often caused in later life by overexposure to the sun's powerful rays.
When should a baby wear sunglasses?
In the Netherlands, UV radiation is lower than in countries around the equator. This is because the closer you are to the equator, the more powerful the sun's radiation is. So if you go on holiday to Spain, Portugal or Italy, for example, you have to reckon with higher UV radiation. But also in the Netherlands the UV radiation can be higher every now and then. For this reason, have your baby or child wear sunglasses often. At least in the summer between noon and 3 pm. Between these hours, the UV radiation is at its highest. Most of the UV radiation is reflected off the ground, through walls or over water or snow. For this reason, it is important to protect a baby from UV rays even in the shade with sunglasses for babies. Even if you are sitting on the beach under a parasol. Even then fifteen percent of the UV-radiation finds its way through the parasol. It is good to know that temperature has no influence on the sun's radiation. So it is not the case that the sun is less harmful on a cooler day than on warmer days. So even if it is cloudy, UV radiation can find its way to your eyes. For this reason, eye doctors recommend that babies wear sunglasses in the shade. That way there is optimal protection. Sunlight reflects off walls and the ground, so UV radiation can still reach the eyes even if your baby is not in the sun. A hat or cap alone will not provide enough protection at that time.
How do you keep the sunglasses on your baby?
It can sometimes be quite a challenge to get a baby or child to keep sunglasses on. For babies, it is therefore possible to attach the glasses to the head with an elastic band. This ensures that the glasses remain in place. Once the child becomes a little older, they generally like to choose their own glasses. It then helps a lot if you set a good example and wear your sunglasses regularly. Have you tried everything and is your baby still unable to put on the sunglasses? Try getting him or her to wear a hat or cap to protect the eyes in that way.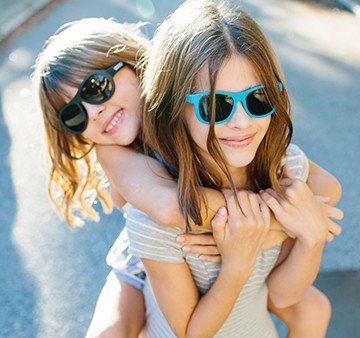 What baby sunglasses are there?
At UV-Fashions you will find the cutest and most adorable baby sunglasses in large quantities. We offer various models in different cheerful colours. Besides the fact that your baby's eyes are well protected, you also want your baby to look cute and fashionable. By offering a varied assortment, you can be sure that you will always find a suitable pair of baby sunglasses. That way, you can find sunglasses to match different outfits and swimsuits. In addition, we have selected a number of great brands for you. The BabyBanz sunglasses meet the strictest requirements and therefore offer 100% protection against the sun's rays. They are also easy to adjust thanks to the elastic band that goes around your baby's head. This ensures that the sunglasses always stay in the right place. The brand was established when the founder, years ago, was looking for a good pair of sunglasses for his baby and could not find them anywhere. Eventually, he started developing them himself, resulting in the successful sunglasses brand BabyBanz.
The best sunglasses for babies
You can tell exactly what makes a good pair of sunglasses for your child by the CE marking on the glasses. This marking indicates that the glasses meet legal requirements. The CE marking is often accompanied by a number from zero to four. This number indicates the colour intensity of the glasses. In other words, the protection against glare and UV light. The table below shows the different categories.
| | |
| --- | --- |
| CE-marking | Protection |
| 0 | allows 80 to 100 percent of sunlight through |
| 1 | allows 43 to 80 percent of sunlight through |
| 2 | allows 18 to 43 percent of sunlight through |
| 3 | allows 8 to 18 percent of sunlight through |
| 4 | allows 3 to 8 percent of sunlight through |
The more light the sunglasses absorb, the better the protection they provide. For summer, glasses marked CE-3 or CE-4 are recommended. It is therefore important to always wear well-protected sunglasses. Especially if you have very young children. Category zero glasses are only suitable if it is cloudy outside. Category 1 glasses are only useful when it's slightly cloudy and the sun is weak. Category two glasses are only used in moderate sunlight. Category three glasses are suitable for a beautiful sunny day with bright sunlight. These glasses are very suitable for babies and children. And category four glasses are worn in bright sunlight, for example, in the snow or on the water. Here, very strong glasses are desperately needed. So make sure you properly assess which glasses are suitable for your baby or child so that the right protection applies..
The difference between baby and children's sunglasses
There is quite a difference between sunglasses for babies and sunglasses for children. This, of course, has everything to do with the size, the frame and the protection of the glasses. When you're looking for sunglasses for babies, it's important to make sure that the sunglasses are tightly fitted. With <a href="/accessories/sunglasses/-/baby/">baby sunglasses</a>, they often come with an adjustable elastic band that prevents the baby from simply pulling the glasses off the head. For young children between the ages of two and four, you can choose sunglasses that have a reversible frame. In these sunglasses there is no upper or lower part present and the hinges are absent. These glasses have an enveloping and ergonomic shape and curved legs. Extra safe for the head. Sunglasses for babies and children do not necessarily have to be expensive to provide the best possible eye protection. When choosing sunglasses, it is especially important to look at your child: will they really wear the glasses and if so, what do they like. This will help you the most. If you want to learn more about sunglasses for kids, be sure to read <a href="/blog/what-are-good-kids-sunglasses/">this blog</a>..
Tips on buying baby sunglasses
Purchasing sunglasses for your baby can sometimes be a challenge. Therefore, when buying glasses, keep the following tips in mind:
100% UV Protection. 100% UV protection is extremely important. You will find this indication on a sticker or in the description that comes with the sunglasses. This can be recognized by 100% UV or UV400.
Choose the right CE marking. In bright sunlight, on the water or in the snow, sunglasses marked CE-4 can be very useful. On a cloudy day, the glasses of this type can sometimes be a little too dark.
Babies and children are sometimes still capable of breaking things. Therefore, it is important to ask whether the sunglasses are unbreakable. If the sunglasses are made of polycarbonate, this is always the case.
Polarized glasses. For optimal protection you can choose polarized lenses. These lenses ensure that glare is filtered away.
Fitting to the face. When babies' eyes need full protection from UV rays, it is important that the frame of the sunglasses fits well on the baby's face. In doing so, it is important that no sunlight enters at the top, bottom and sides. An optician can adjust the glasses correctly so that the glasses fit nicely..
Baby sunglasses online at UV-Fashions
So sunglasses for babies are not a luxury. This is what we at UV-Fashions observe on a daily basis. And that's why it's so important to offer a nice, extensive collection. Because baby sunglasses do not have to be expensive to provide optimal protection for your baby's or child's eyes. When choosing the right sunglasses, look above all at what your child wants: will the glasses be worn? As a parent, this will help you the most. Together we are stronger. UV-Fashions does this by creating the right awareness. This is one of the ways in which we contribute to prevention and help make skin cancer research possible. Everything we do to be able to beat this disease in the future and to let our children grow up safely!!