How to apply sunscreen - 10 great tips
Using sunscreen, we Dutch are no experts in that. For example, recent research shows that almost two-thirds of the Dutch have no idea how much sunscreen should be used at a time. Furthermore, at UV-Fashions we regularly receive questions about sunscreen, such as:
How often should I apply sunscreen?

Which Sun Protection Factor (SPF) do I need?

Which brand of sunscreen is best?
It's about time to learn some basic rules about sun protection. UV-Fashions has got you covered. Here are 10 great tips to apply sunscreen the right way: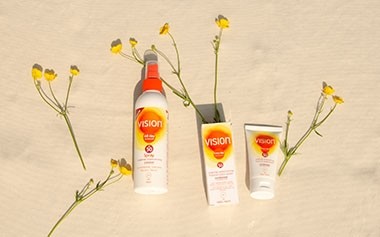 1. Start with UV clothing
Many people still haven't heard of UV clothing, while wearing UV clothing optimally protects your skin from the sun. In contrast to numerous sun creams, the clothing in our range protects you against both UVA rays and UVB rays. What's the difference?
UVA rays penetrate deep into your skin. A high dose of UVA can damage your skin and can lead to skin ageing and skin cancer.
UVB rays cause your skin to discolour and can burn it. UVB rays also have a positive effect: they help the skin to produce vitamin D.
A mnemonic to remember the difference between UVA and UVB is: the A is for Ageing and the B for Burn. Read more about UV rays and sun power on the page of our partner KWF Kankerbestrijding.
Most sunscreens mainly help to prevent UV-B radiation. The Sun Protection Factor (SPF) on a bottle therefore only refers to UVB rays. The EU has now introduced a UVA label that may only be placed on a sunscreen bottle if the SPF for UVA rays is at least one third of the SPF. This is shown in a circle on the container.
Applying sunscreen therefore mainly helps to prevent getting sunburnt, while also preventing skin ageing and skin cancer. UV clothing stops as much as 98% of UV radiation, both UVA and UVB radiation. Do you want to protect yourself against harmful UV rays? Then using sunscreen is not enough. Therefore, use UV clothing as a base and put on sunscreen as a supplement.
2. Use at least 30 ml of sunscreen a time
Recent research has shown that 65% of the Dutch have no idea how much sunscreen is needed. Research shows that the Dutch only use 25% of the amount needed to protect the skin. Here's a brief overview of how much sunscreen you need to use per body part:
At least 1 teaspoon for face and neck

At least 2 teaspoons for arms and shoulders

At least 2 teaspoons for chest, bdomen and back

At least 2 teaspoons for legs and feet
In practice it can be difficult to measure and estimate this. Furthermore, the quantity also depends on the size of the body. Our advice is therefore simple: just grease up! Or even better: protect the skin optimally by wearing UV clothing!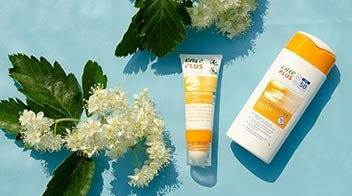 3. Reapply sunscreen on your skin at least every 2 hours
We see that the quality of sunscreen increases every year. The effect lasts longer and longer and more and more creams are getting water-resistant. Nevertheless, the SPF used decreases over time and that is accelerated by wearing clothes and by taking a dip in the swimming pool or in the sea. That's why we advise applying sunscreen every 2 hours. To help you remember, you can set your alarm on your phone to give you a reminder every 2 hours. This will drastically reduce the risk of getting sunburnt. By the way, if you wear UV-clothing, you don't have to put sunscreen on the covered areas at all which saves money and time. Nice and easy!
4. Leave sunscreen to absorb into the skin for half an hour
The synthetic substances in sunscreen take about half an hour to retract. So don't dive directly into the sea or swimming pool in that half hour, and let the product soak in well first. Don't slide too much with your swimwear in that half hour and don't wiggle too much on the towel you're lying on. As a woman you can prevent that you get those burned pieces by the straps of your bikini and as a man you can prevent that you get those red stripes above your swimming shorts.
5. Avoid exposing sunscreen to excessive heat or direct sun
If you expose a bottle of sunscreen to direct sun, the SPF decreases. So always keep sunscreen containers in a bag or at least put them in the shade. Has your sunscreen been exposed to direct sun of excessive heat for a while? Keep in mind that the product is now less powerful and apply thicklyl!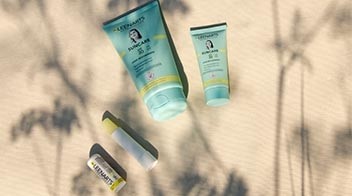 6. Pay attention to the expiration date of sunscreen
Sunscreens also have an expiration date! This is something many people overlook. In addition, it is a product that decreases in strength over time. For example, after a few months, sunscreen with SPF 30 turns into sunscreen with SPF 26. Keep this in mind when applying!
7. Give your children extra protection from the sun!
Children's skin is extra vulnerable to UV rays. That is why we recommend giving children up to 16 years of age better protection from the sun. Wearing UV clothing is therefore extra important for children! So make sure you have a UV cap and buy UV clothing for your children if you haven't done already.
It is also advisable to apply an extra thick layer of sunscreen with an high SPF such as SPF 30. There are special sunscreen sprays and sun creams for children. In addition, we recommend that children under the age of one should be completely kept out of direct sunlight.
8. Don't just buy the most expensive sunscreen
Which sunscreen brand is the best? That is a question we are often asked. The honest answer: in terms of protection, it doesn't really matter whether you choose a relatively expensive or cheap brand. A recent test by the Dutch Consumers' Association (2017), for example, shows that almost all cheaper products performed as well as or better than more expensive ones. This is because every product has to meet certain conditions. So in terms of sun protection, most products offer the same.
Nevertheless, in the test conducted by the Consumers' Association there were three real fences because they offer much less protection than promised. These are the SPF 30 creams from Clinique, Clarins and Europrofit (Kruidvat). The best sun creams from the test were from the brands Garnier Ambre Solair and Nivea Protect and hydrate.
When choosing a sunscreen, the most important thing is that you choose a product that contains a UVB and UVA filter and states that the cream is water-resistant or waterproof if you plan to go swimming. The differences between brands are mainly in the extras. For example, more expensive products contain substances that moisturize the skin or substances that give it a finer scent or texture. It is possible that you get an allergic reaction to one of these extra substances. This often manifests itself in itchy eczema with redness and blisters. Switching to another sunburn (without too many extra substances) is of course the answer. Ingredients you should pay attention to when selecting a sunscreen:
Perfumes: not good for sensitive skin

Alcohol: irritates and dries out the skin

Solar filter Oxybenzone: could disrupt the hormone balance
Unfortunately, there are very few sunscreen products without perfume, according to the Consumers' Association's test. Furthermore, we advise you not to buy a sunscreen abroad from a brand you do not know.
9. Use an SPF of at least 15, depending on your skin type
In addition to questions about the different brands of sunburn, we often get the question: which Sun Protection Factor do I need? In general, we can say that for daily outdoor activities in the Netherlands you need to apply a SPF of (at least) 15. Are you really going to sunbathe or are you travelling to a warm country? If so, we recommend applying sunscreen with at least SPF 30. The rule for children is always to apply at least SPF 30. Please note that SPF is only decisive if you apply it often and generously!
Which type of sunscreen with which SPF suits your skin, depends on your skin type. Lighter skin, for example, needs a higher SPF than dark skin. In this KWF Table (in Dutch!) you can see which skin type you have and which SPF you need to use to prevent you from getting sunburned.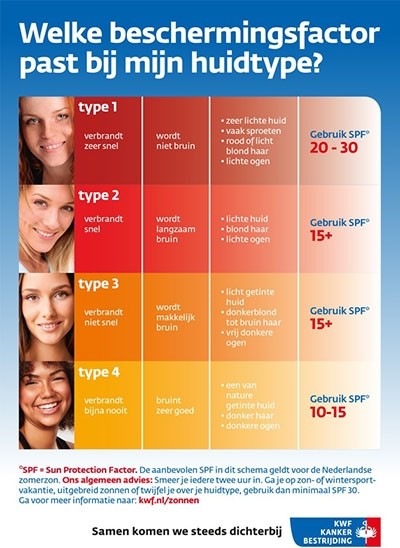 10. &nbspDon't forget your face!
We often skip our face when using sunscreen. We want to get a nice tan on the face, or we simply forget about it, while the face is most at risk of skin disorders. For example, skin cancer is most common on our face because it is most exposed to the sun. So it is very important that we protect our facial skin from the sun. A UV hat or UV cap is a good way to protect your head and face from the sun, especially for bald people. We also recommend that you rub your face well, even in winter. We advise everyone to buy a day cream with SPF that protects your face from the sun at all times. Almost every day cream nowadays contains SPF15.
Don't apply sunscreen on your face in summer because you're afraid of wrinkles? Sunscreen is the best anti-wrinkle cream available! Sunburn (with UVA filter) protects you against skin ageing and sunburn. So rub in well now so that you don't have to Botox later in life!