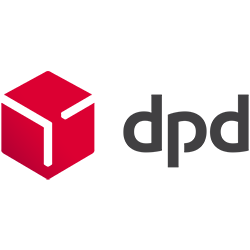 UV Fashions and DPD
UV Fashions puts you as a customer in first place and that is why we chose DPD as our partner in delivering your order. DPD has a great service called DPD Home, which enables you to choose your own delivery time. DPD informs you proactively on when you can expect your delivery and if your not able to take delivery at that moment, just follow the instructions they provide and choose from one of three different time options to get your order from UV Fashions!
DPD home offers you as customer the following advantages:
You decide the delivery moment
Email notification of the delivery date, choose an alternative moment online if necessary.
Notification of the time slot in which your delivery will arrive.
Not home or want to make a different appointment?
If DPD isn't able to deliver, you have the possibility to make a new appointment. This can be on a different day, another address, a DPD shop or even with a placement authorisation. Plan your new appointment simply online here.
All you need fort his is the notice you received from the driver and your postal code. Depending on the instructions on the notice, most of the times your package can be delivered the next day. The only thing you have to do, is to give your new delivery instructions before midnight.
DPD offers the following delivery options:
Delivery on another day
Choose a different day on which you can take delivery of your package
Delivery on another address
If you would like to receive your package on a different address, for example the neighbours or at work? Simply go online and change the delivery address. If they new postal code is within the same region, usely delivery can be the next day. If the new postal code is a new region, delivery is usely within two days.
Placement authorisation
You can also choose to authorise your DPD driver to place your package in a safe place at your home.
Pick up at a DPD shop
Would you like to pick up your package? Let the package be delivered at a DPD shop of your choice. You will be informed on when your package has arrived. Collection of the package at your DPD shop has to be within 7 days.
Important links and information about your delivery.

Worldwide CO2-neutral parcel transportation
DPD acknowledges the responsibility to effect the environment and the planet to a minimum. DPD is looking to every aspect of it's business to strive for reduction of unwanted effects on the environment. We don't see CO2-reduction on the environment not just as a challenge, but also as a destinct way to positivily differentiate us from the parcel industry.