About the brand...
Hatland is a high-quality Dutch hat brand that stands out for UPF50+ protection, details, comfort, sizing and value for money. At UV-Fashions you will find a wide range of UV-protective (sun) hats, caps and sun visors for both women and men. Available in different colors and designs.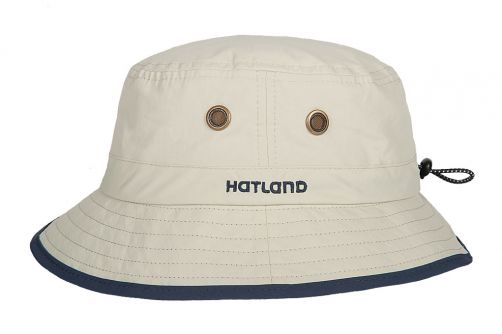 Hatland | UV hats and caps

Hatland hats
Hatland is a Dutch hat brand that has been making high quality hats, caps and also gloves since 1992. Hatland Headwear's uv-protective hats and caps are not only trendy eye-catchers on your head. Hatland uv hats all offer the maximum UPF50+ protection. By wearing a hat or cap on your head, you prevent your face and head (skin) from being damaged or burned by the sun. All Hatland Headwear hats and caps are lightweight, quick-drying and many are water-repellent. At UV-Fashions, you'll find a wide selection of Hatland, including:
Ivy caps
Bucket hats
Cloche hats
Sun visors
Hats
Boonie hats
Hatland women's and men's hats
Ladies and men wear Hatland headwear as a fashion item, as protection from the sun during an outdoor adventure or a combination of both. Which Hatland hat or cap suits you depends on personal preferences. Do you want a neck flap or not? What color do you like? Is it important for you that a hat is waterproof or water-repellent? And do you prefer a wide or narrow brim or flap? In the sun, rain or strong wind. Protect your head with a Hatland hat. We would like to draw attention to 2, in our opinion, very special collections:
Hatland Anti-Mosquito Hat
Hats of this series are insect repellent due to the odorless layer in the fabric that keeps mosquitoes, ticks and other insects away. All hats in this line are also equipped with a UPF 50+.The insect repellent layer remains intact for at least 50 washes.
Hatland Cooldown
Hats and caps of the Cooldown line are equipped with a patch. You hold this in cold water for 2 minutes and gently squeeze out the patch. Put the patch back into the hat or cap and your head will be cooled for five to ten hours. The Hatland Cooldown line also offers UPF 50+ protection.
Hatland hats UV-Fashions
Your uv-protective headgear from Hatland is, of course, ordered at UV-Fashions. Not only because of the wide range of UV-protective clothing and accessories, such as UV-hats and caps. But also because of the years of experience with uv-protection, the knowledgeable customer service and the super safe payment environment that UV-Fashions offers you. If you order your Hatland uv hat or cap before 5:30 pm at UV-Fashions, you can put it on your head the very next working day. We'll ship your Hatland uv-protective hat for free!