About the brand...
UPF50+ swimwear from the brand Snapper Rock offers excellent protection against harmful UV rays from the sun, allowing children to swim safely and comfortably. The brand offers a wide range of high-quality, UV-protective swimwear for boys and girls, including swim shirts, rashguards, swimsuits, and swim shorts.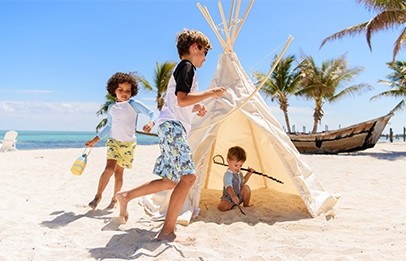 Snapper rock | UV Clothing and Swimwear

Snapper Rock UV Clothing
Snapper Rock is a New Zealand brand founded in 2003. The brand focuses on designing stylish and functional UV-protective clothing and accessories for children aged 0 to 16 years. Snapper Rock's mission is to keep children safe in the sun without sacrificing style and comfort. Snapper Rock's range includes UV-protective swimwear, including rash guards, swim shorts, bikinis and swimsuits, as well as hats, sunglasses and beachwear. All products are designed with UPF50+ protection, which means they block up to 98% of harmful UV radiation. In addition to providing sun protection, Snapper Rock also strives for sustainability. The brand uses recycled materials in their products and collaborates with organizations committed to ocean and environmental conservation. Snapper Rock now has an international presence and is sold in over 25 countries worldwide. The brand has won several awards for their innovative designs and attention to sustainability and safety.
UPF50+ Swimwear from Snapper Rock
Snapper Rock is a brand that focuses on designing UV-protective swimwear for children and adults. Their clothing is made from high-quality materials that protect against harmful UV radiation. Snapper Rock's swimwear has a UPF (Ultraviolet Protection Factor) rating of 50+, which means it blocks more than 98% of the sun's harmful UV rays. This provides excellent protection against sunburn and other harmful effects of sun exposure, such as premature skin aging and an increased risk of skin cancer. Snapper Rock offers a wide range of UV-protective swimwear for children and adults, including swim shirts, rash guards, swim trunks, and bikinis. Their clothing is available in various sizes and styles, from colorful and bold to classic and understated. In addition to sun protection, Snapper Rock's swimwear also offers excellent performance in the water. The material is quick-drying, breathable, and lightweight, making it comfortable even when wet. Overall, Snapper Rock's UV-protective swimwear is an excellent choice for anyone looking for sun protection while swimming and engaging in water sports. The brand offers high-quality, durable clothing that is not only functional but also looks great.
Order Snapper Rock UPF50+ Clothing Online from UV-Fashions
If you're looking for high-quality UV-protective swimwear for your children, then the Snapper Rock brand is definitely worth considering. Snapper Rock's swimwear offers excellent protection against the harmful radiation of the sun, with a UPF50+ rating that protects the skin from more than 98% of UV rays. At UV-Fashions, you can easily and quickly order Snapper Rock UPF50+ swimwear online. Our website offers a wide range of Snapper Rock swimwear for boys and girls, including swim shirts, rash guards, swimsuits, and swim trunks. We have various sizes and colors available so you can always find something that perfectly matches your children's style and taste. Additionally, at UV-Fashions, we provide excellent customer service and fast delivery so your children can quickly enjoy the protection and comfort of their new swimwear. If you have any questions about our products or your order, you can always contact our customer service for assistance and advice.
Back to top