About the Brand...
From the iconic brand Quiksilver, you will find UV-Fashions a wide range of uv clothing for boys and men such as swim shirts, t-shirts, hats, rashguards, swim capes and more. Piece by piece beautiful. Uv-protective, sporty and cool!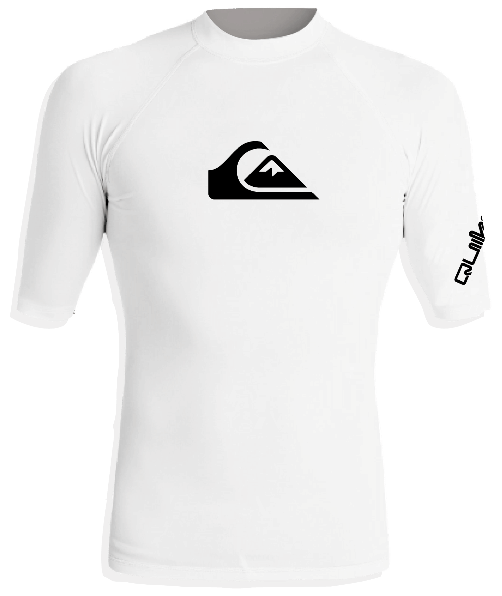 Quiksilver | Uv protective swimwear

The brand Quiksilver
Quiksilver, who doesn't know this sporty, cool brand? Quiksilver was founded in 1969 in Torquay, Australia. The brand began by making boardshorts and initially focused on rugged surfers and the surf culture that goes with it. Over the years, Quiksilver grew into an international clothing brand for hip and sporty people who like to exercise outside in the sunshine. Meanwhile, Quiksilver left Australia to settle in California in the United States. California, like Australia, is also a hotspot for surfers and water sports enthusiasts. Adventurous brands such as Roxy and Billabong have also emerged from Quiksilver over the years or have been linked to it by the iconic brand. Quiksilver's logo consists of a mountain and a wave. Because the brand is worn just as sweetly while conquering fierce waves as high mountains and steep, snowy slopes.
Quiksilver Swimwear
The Quiksilver brand was born more or less in the water or on the beach. Of course, you should expect something from this brand in terms of swimwear. And Quiksilver meets these expectations effortlessly. Tough, colorful boardshorts with original and fresh prints for boys and men. And sporty, colorful bikinis and swimsuits for girls and women. You will find all of this at UV-Fashions, of course. Quiksilver's eye-catching, cheerful designs can be found on beaches all over the world. Thanks to years of expertise, Quiksilver distinguishes itself from many other brands through its excellent fit. Very important when you are swimming in the sun or surfing on rough waves.
Buy Quiksilver online at UV-Fashions
Have you found your favorite swimwear from Quiksilver on our website? A sporty swimsuit, a colorful swimsuit or a trendy bikini? Then add it quickly and easily to your shopping cart. At UV-Fashions you can order Quiksilver easily and in a 100% secure payment environment. If you order Quiksilver swimwear for men, women and children before 5:30 p.m., we will ship your order the same day.