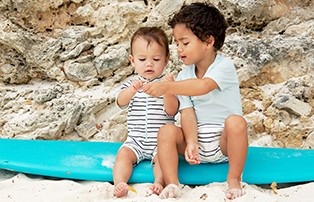 Lässig | UV Clothing for Kids

Lassig UV protective clothing for babies and children
Lässig means casual and that is exactly what this German brand stands for when producing and marketing their products. At UV-Fashions, you will find Laessig's cheerful UV suits for babies and children, as well as long and short-sleeved UV shirts, different swim shorts for boys and girls, and all kinds of swim nappies and nappy bags for babies and, of course, their parents. Lassig ensures that you and your family can enjoy a carefree day in and around the water (and in the sun). The best possible protection from the harmful effects of UV radiation and a completely relaxed way to spend time with your little ones. All these (UV-resistant) items come in the features cheerful colours and funny, laid-back designs.
LÄSSIG and sustainability
Laessig stands for honest and casual and is committed to both nature and people. The honesty is particularly evident in the fact that the Lassig brand takes responsibility for its employees and their working conditions. This means proper working conditions, compliance with all safety regulations, no child labour and fair pay. Lässig increasingly produces with recycled, untreated and environmentally friendly materials.
Lassig baby sun hat
The Lässig baby sun hats are one of the brand's showpieces. That comes as no surprise when you look at the cute designs of the hats. Wouldn't you want one for your baby? And if you do not have a baby, it is a fantastic gift for the baby of friends or family. At least, we think so. So we have a wide range of hats and caps from Lässig, because we think (and secretly know) that you will agree with us. So order a Lässig baby sun hat at UV-Fashions.
Lassig nappy bag
Lässig has everything in the field of UV protection and baby accessories, including an indispensable nappy bag. A nappy bag itself does not necessarily have to be UV-resistant. But at Lässig, comfort and quality are very important, so they not only make UV-protective clothing, but also accessories that every parent of small children needs. And at UV-Fashions we think exactly the same, so in addition to the handy UV protective Lässig swimwear, you will also find Lässig nappy bags and sun hats, among other things.
Order Lässig online at UV-Fashions
If you are looking for UV protective clothing or accessories, you have come to the right place at UV-Fashions as well as Lässig. Take a look at the entire range of Laessig UV protective clothing for children. If you don't find what you are looking for, we have many other brands of UV protective (swim) wear for children and adults. From sunglasses to UV shirts and from hats to swimming suits. If you order your UV protective items before 5.30pm, they will be shipped the same day.