About the brand...
From the Dutch brand EasySwim you will find the EasySwim Fun and EasySwim Pro at UV-Fashions. Float suits and flotation vests that ensure that children learn to swim quickly and in a playful and safe way.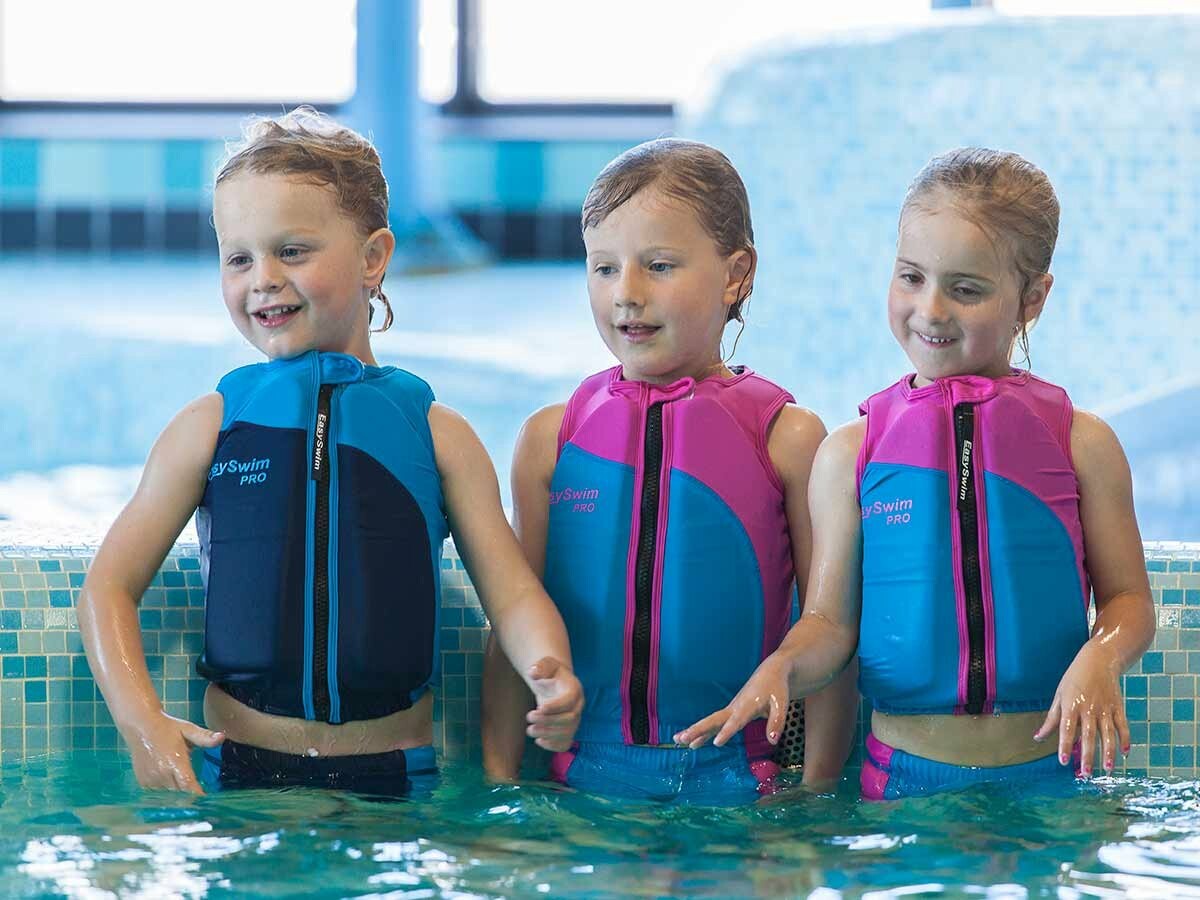 EasySwim brand and swimming lesson method.
The EasySwim brand originated from a swimming lesson methodology. The EasySwim swimming lesson method rests on the following (three) pillars: fun, commitment and learning through experience. The EasySwim method is a form of swimming lessons where children start swimming immediately in deep water. The brand and thus the company, EasySwim, continues to constantly innovate and develop since its inception. From that thought and from the feedback of the children themselves, their parents, professionals from the 'swimming lesson practice' and swimming pools where EasySwim swimming lessons are given, (new) products are constantly being developed. Such as the EasySwim Pro and EasySwim Fun vests that you can view and, of course, order online at UV-Fashions. The EasySwim swimming lessons are based on the idea that learning to swim should and can be fun and easy. EasySwim swimming lessons are based on the way children learn (swim). This has contributed to the creation of the EasySwim swimming aids. EasySwim; swimming lessons at their best!
EasySwim Pro and EasySwim Fun at UV-Fashions
When you translate the brand name EasySwim, you actually know it right away. EasySwim actually means easy (learning) to swim. EasySwim makes every effort to teach children to swim with pleasure, as quickly as possible and with fun. In a way that will benefit a child his or her whole life. To this end, EasySwim's swimming and buoyancy aids are virtually indispensable. At UV-Fashions, you'll find the EasySwim Pro Jacket, the ("EasySwim Pro") and the EasySwim Fun. The EasySwim Pro is currently designed specifically to be worn and used during swimming lessons. The EasySwim Fun, on the other hand, is suitable for recreational use. So during so-called free swimming or during vacations. Children feel safer and more secure in the water while wearing an EasySwim, both during swimming lessons and in their spare time. This benefits not only the fun, but also the swimming skills and speed of learning to swim. With both EasySwims, you can decide whether the zipper is worn on the front or the back, the buoyancy is evenly distributed over the body thanks to the removable buoyancy elements, UPF 50+ protection is provided. And while wearing it, you are guaranteed maximum freedom of movement and a comfortable fit.
Order EasySwim swim aids online at UV-Fashions
At UV-Fashions, you can certainly not only go for life jackets and buoyancy aids. In fact, UV-Fashions is the specialist for UV-protective clothing and accessories. Not only for children, but also for adults. So, we certainly don't just provide safety for your little one while swimming and in the water. When you place an order at UV-Fashions, you are guaranteed lightning fast shipping, and you pay in the way of your choice in a very secure online payment environment. Furthermore, don't forget to take a look at our other life jackets or buoyancy aids.
Back to top