About the brand...
Duukies are soft, comfortable and trendy beach socks that are ideal for trips or vacations on the beach. The beach socks protect children's feet from the sun and hot sand and are also easy to put on and off.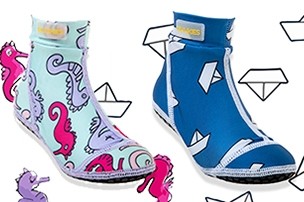 About Duukies
The Dutch mother Carlien van Hemert had the idea for Duukies beach socks. The brand is named after her oldest sun, 'Duuk'. During their family vacation in Spain, Carliens children kept complaining about the hot sand burning their feet. Old fashioned bathing shoes didn't offer a solution since they often irritate the skin on the feet with their straps and buckles. Furthermore, it can be quite challenging to swim with bathing shoes. The new beach socks are soft, comfortable and are super handy to use since they are easy to put on and off. Did we mention that the Duukies beach socks also look great and come in many trendy patterns and colours?
Trendy protection with Duukies
The Duukies bathing socks protect from hot sand, sharp stones, shells and splinters, jellyfish and other sea animals, and prevent from slipping. They also protect against harmful UV rays with UPF 50 (98% UV protection). They are made of quick-drying, UV protecting neoprene. Duukies bathing socks are available in many different styles, making it almost difficult to decide between all those nice patterns and colours.
Cleaning Duukies
A big advantage of Duukies, in comparison to other beach socks or bathing shoes, is they are easy to clean. Simply turn the beach socks inside out and rinse them under running water. With the hip and happy Duukies on their feet, your child can play on the beach and move freely in the water!