About the Brand...
The new, stylish collection of Beverly Kids floating suits offers many different colors and cheerful designs, so that every child can choose a personal favorite. Beverly Kids has beautiful bathingsuits for girls and robust swimsuits with short legs for boys.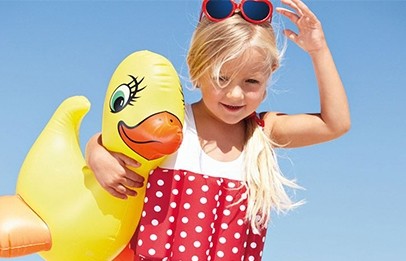 Beverly Kids | UV Floating Suits

About Beverly Kids
Beverly Kids is a children's swimwear brand known for its floating suits for kids. The floating suits from Beverly Kids are ideal for familiarizing children with water and practicing swimming in a playful manner. The floating swimsuits keep children afloat and allow them to keep their heads above water. These suits are also known as floating suits or buoyancy swimsuits, as they resemble the old-fashioned buoys that children used to tie around their waists when they went swimming. But this is much easier, as the Beverly Kids buoyancy swimsuits have the buoys built-in, so no more hassle by the pool or on the beach.
Buoyancy Swimsuits for Children from Beverly Kids
The materials used by Beverly Kids for the floating suits are UV-resistant and provide optimal protection against sun damage and UV radiation. Even after frequent wearing, swimming, and washing, the protection remains optimal. There are many fun designs for both boys and girls, so there is a buoyancy swimsuit for every child that fits their style. You may be wondering how to wash a floating suit? It's very simple: rinse with clean water after use and hang to dry. Or, you can wash by hand with a mild hand soap. The special thing is that the floats are not filled with air but made of EVA foam and integrated into the swimsuit through a stretch band. So very easy and also easy to wash and dry. By the way, don't put the buoyancy swimsuits in the dryer!
Shop Beverly Kids online at UV-Fashions
Why make things difficult when they can be easy? Order today within the Netherlands, and it will be delivered tomorrow! You can easily order the Beverly Kids swimsuits that keep children afloat online. Do this today and you will receive your order lightning fast wherever you want. This is handy when you're going on vacation or the weather suddenly turns sunny and you want to go to the beach or pool with your child!
Back to top