About the Brand...
The UV clothingbrand Beach & Bandits was founded in 2015. The stylish collection consists of UV bathingsuits, shorts and swimshirts for babies and kids.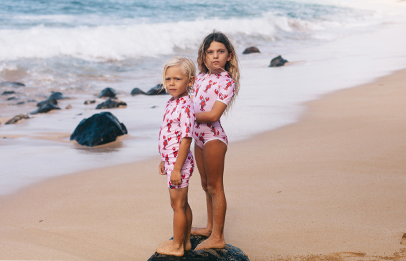 Beach & Bandits | UV (swim) wear for Kids

UV Shirt child Beach and Bandits
Beach and Bandits offers the perfect UV-shirt for your child. The founders of this Dutch label found it extremely difficult to find fun, UV-protective clothing for their family. So they took matters into their own hands and started Beach and Bandits. The family can often be found on the beach, so it was a logical step for them to start working on this. From their own experience, they know better than anyone what beach and swimwear should look like. They make each garment as if they were making a UV-shirt for their own child, so at Beach and Bandits you can be sure that you are dealing with high quality UV-protective clothing.
UV swimwear from Beach and Bandits
UV swimwear from Beach and Bandits offers UPF 50+ protection, blocking as much as 98% of UV rays. So you can be almost sure that the covered parts of the skin are not at risk and you only need to apply sunscreen to the uncovered parts. For perfect protection, hoist your little ones in the beautiful and protective UV swimwear from Beach and Bandits.
Beach and Bandits for babies
You will also find the new Beach and Bandits UV-shirt for your baby at UV-Fashions. As usual, we make sure that you can order your favorite clothing easily, quickly and without worry. We don't like to wait, so we almost always deliver the next day. So all you have to do is choose from Beach and Bandits swimsuits and Beach and Bandits swim shirts or other UV clothing such as UV shirts for your baby.
Back to top